Mahinda was rescued from certain doom by a motley crew of brave souls who rallied around him in his moment of need. And they won, against all the obstacles. Now Mahinda has betrayed Wimal, Udaya, Dinesh, Vasu, D.E.W. Gunasekara, Rajiva, Tissa Vitharana, G.L. Pieris, Dayan Jayatilake, Sarath Silva, Tissa Attanayake and everyone else who helped him.
The murmurings coming from Colombo are not good. The first sign that things were taking a dangerous turn was Mahinda, Ranil and Sirisena's strangely affectionate handshaking session during Ranil's inauguration on August 21. Then came Namal Rajapaksa's tweet of August 23. He "thanked" the "SLFP Central Committee" for allowing him and others to sit on the opposition benches of Parliament, despite the SLFP officially joining the "National Government."
Thankful to SLFP Central Committee for giving us the opportunity to choose between joining national government & sitting in the opposition.

— Namal Rajapaksa (@RajapaksaNamal) August 23, 2015
Now this is a complete joke. Firstly the current SLFP Central Committee (CC) is an illegal, unelected gathering of political rejects like SB Dissanayake and Nandimithra, and political has-beens like Chandrika, all of whom were unilaterally and unconstitutionally appointed by Sirisena while an injunction he himself had put in place prevented the convention of the real SLFP central committee. That Namal recognizes — going so far as to "thank" them! — the "new" Sirisena-CC shows that something is going on which none of the people who voted for the UPFA at the August election will like.
Secondly, the SLFP members were elected on a platform that was specifically against the concept of the "National Government" as espoused by Ranil and the UNP. For any of their number to then join this flawed and principally undemocratic form of government, let alone for defeated candidates to sneak in through the National List by usurping the slots of such great men as Rajiva Wijesinha and DEW Gunasekara, is a complete disgrace.
Sirisena's illegal removal of Susil from his post as UPFA General Secretary through yet another injunction, in order to control the National List appointments, does not stand in any court. The dodgy Elections Commissioner himself said that only the named General Secretary who signed the nomination papers in July 2015 was the recognized General Secretary of any given party. But after the election, we saw what had really happened. The whole drama and "removal" of Susil was just a huge piece of theatrics.
In the end, Susil himself submitted the National List which included such political destitutes as Vijitha Soyza and SB Dissanayake — i.e. a complete purge of all those who rallied around Mahinda and won, and their replacement with losers and money-hungry bandits. Now the political careers of G.L., D.E.W., Tissa Vitharana, Rajiva Wijesinha, and others have been ended through a conspiracy involving Sirisena and Susil.
What's worse is the deafening silence from Mahinda, on whose behalf those parliamentary stalwarts risked everything when they thought the nation was in danger from the Ranil-Sirisena-CBK axis of evil.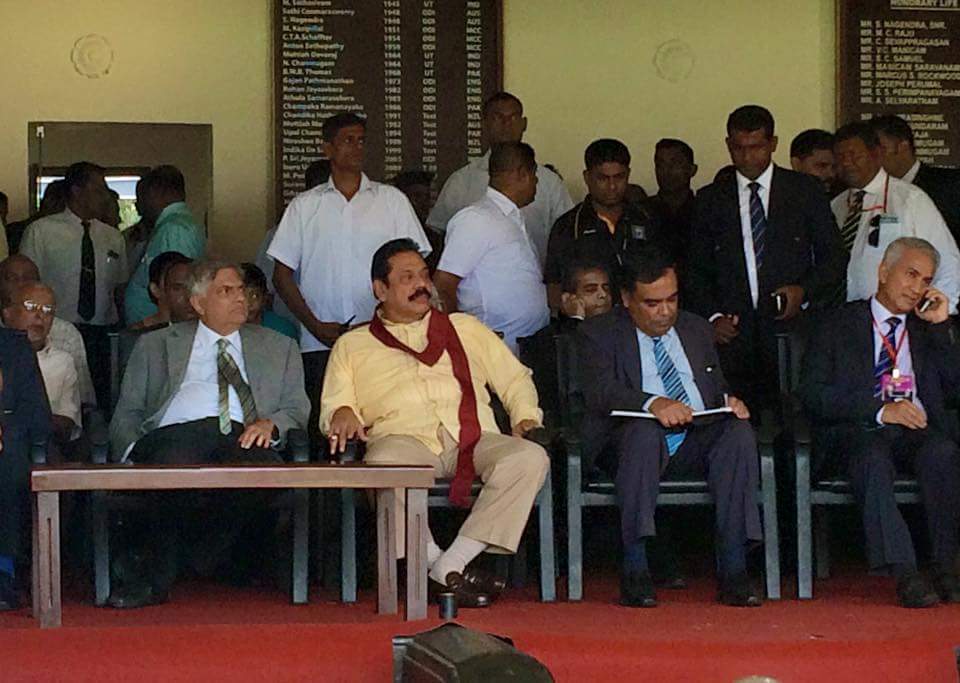 Now Mahinda is back in parliament while all those who fought for him, when they could easily have kept quiet and stayed with Sirisena, those who struggled despite the thuggery and intimidation, and who then won against all the odds, have been thrown to the attack dogs of the FCID.
Yet the revolting treachery does not end there. SB Dissanayake and other pro-Sirisena MPs were the first to ditch Mahinda, and in a very ugly manner (e.g. Vijitha Soyza's "Appachi mala"). The wise voters up and down the country diligently and conscientiously made sure to defeat them, and return only those MPs who were totally loyal to Mahinda.
After doing their duty for the nation, these poor voters then wake up the next day to find that despite their meticulous, careful vote-casting, all those who they rejected are back in parliament, and even showing off ministerial portfolios. The UPFA voters gave such a large mandate to the UPFA in order to bring the DEWs and the Rajivas in through the National List, and not as a means for third-class, crude rejects like Soyza to sneak in like cockroaches! What's ironic is that Sirisena and Susil were able to appoint so many rejected "pro-Sirisena" MPs through the National List precisely because of the hard work of those men like Tissa Vitharana who saved the UPFA from annihilation, and allowed the party to gain just 10 seats less than the bondscam-funded and police-backed UNP. What has been done to them now is a complete and utter travesty.
Why is Mahinda silent? If Mahinda does not stand up for those who came to his aid, and if he does not act to ensure their return to parliament, that will be a betrayal far worse than Sirisena's "aappa" fiasco. The people, both the UPFA voters and the floating voters who backed Mahinda and the UPFA this election will never, ever forgive Mahinda or the Rajapkasa family. The Rajapaksas will never return to power again, at least not through a democratic vote. But perhaps that is part of the deal. Perhaps Mahinda has betrayed these best, most honest, and most principled of Sri Lankan politicians, in the foolish belief that he has saved his family, and that with the upcoming new constitution, that there won't ever have to be elections again.
Does he think that by betraying the decent UPFA MPs, he has saved his SLFP and saved Namal's future career? Does he think that those who voted for him on August 17 are his personal vote-bank?
Let Mahinda understand that people came behind him not because of some cult-like obsession with him or his family, or his SLFP. They came behind him because he promised to lead them and to save the Sinhalese Buddhist civilization. No politician is indispensable. The "Mahinda movement" can and will continue without Mahinda — we saw a taste of this back in June at the Matara rally which carried on even after Mahinda came and went. If he will not fulfill his responsibility to his people, he and his SLFP can easily be replaced.